So, yet another week where sexist behaviour takes centre stage – and this time on a very public stage – the Ballon d'Or annual French football awards. Following a decade where the awards have been dominated by Lionel Messi and Christiano Ronaldo, the female sporting world was delighted when Ada Hegerberg was proclaimed the winner of the women's award. She walks up to the stage ready to be asked questions about her footballing skills and what it felt like to be the best female footballer in 2018.  A great moment, only to be totally hijacked when the host DJ Martin Solveig asked if she "knew how to twerk". He later apologised to her and explained it was a joke.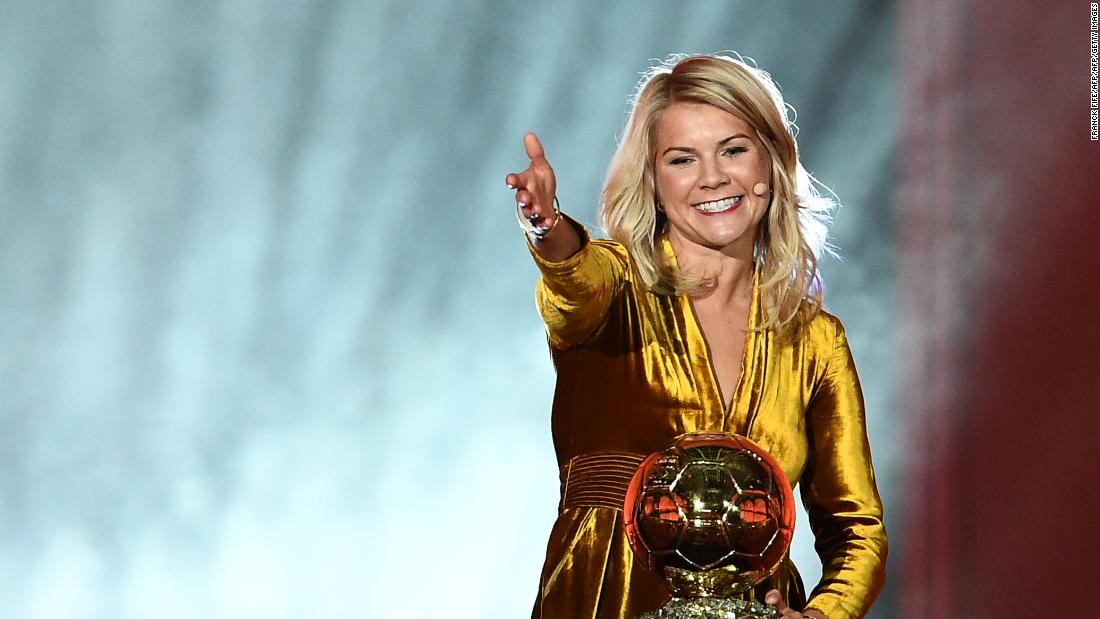 (Image source: CNN)
Well that's all right then isn't it – we all love a joke. No, it isn't. Is it all right that she was publicly demeaned, that more of the press coverage the next day was about the "twerking" comment, rather than her wonderful achievement? No, it isn't. It may not seem a huge issue but it is representative of behaviours around the world in every business and is particularly prevalent in sport.
Andy Murray, who has been a long-standing champion of women's issues stepped forward again calling it "another example of the ridiculous sexism in sport."
"What questions did they ask Mbappé and Modric?" the British tennis player added on Instagram. "I'd imagine something to do with football. And to everyone who thinks I'm overreacting and it was just a joke … it wasn't. I've been involved in sport my whole life and the level of sexism is unreal."
It is not the first time that Andy Murray has taken a stand against comments – he was quick to correct a journalist after he said Sam Querrey, who knocked the British player out of Wimbledon was "the first US player to reach a major semi-final since 2009".  The journalist was shocked into silence when Murray reminded the reporter he was only talking about male players as there had been considerably more success for the US through female players.
I have had the pleasure of working with many sporting organisations in the last few years – the enlightened ones that are really working to promote women, eliminate discrimination and bring a halt to harassment.  But there is still a long way to go.  Women that we work with have reported some toe-curling incidents and offensive comments that have later been described as "jokes" or "banter".
So, should we be putting a ban on banter? I mean it is only a bit of fun isn't it?  But as I say to people who believe that banter and sarcasm is just a humorous way of getting the message across, "who is having the fun"? Generally, it is the person who is dishing out the sarcasm.  The person it is aimed at may laugh along at the time but often that is just to save face in front of all of their colleagues, they may later ruminate on the comments and feel that they have been demeaned in front of team members.  Particularly if the sarcasm comes from the boss, it is very hard to deliver a good comeback in the moment. It may be as innocent as calling a person who is leaving on time a part timer, (often a parent collecting a child), or teasing someone about their mannerisms, but it can often leave the person wondering what the underlying message is.
At Emerge we have worked with numerous teams over the last 10 years to discuss what behaviour is appropriate or inappropriate in the workplace. It is clear that many people are not aware that sarcasm and banter could be considered as harassment, whether it is dished out to women, men, different races, religions or disabilities.  Delivered regularly, in front of other people it could be construed as bullying, so all team leaders need to be certain they are "guardians" of the fun in an office to ensure that people are not crossing the line of appropriateness.  It is critical to check in with people and ensure that they do not feel offended or demeaned and if they do, to speak to the team and ensure they understand.
Nobody wants an atmosphere that is so sterile that everyone is afraid of saying anything that might offend other people, it is just about recognising that sometimes people don't know where to stop.  Often the problem is habitualisation – people get used to a level of behaviour and it I only apparent that it has reached levels of inappropriateness when new people join the team and are often shocked at the intensity and intrusiveness of the office banter.
So, what should you be doing to ensure that your teams are clear on the boundaries – here are a few tips:
Update all of your policies around diversity, inclusion and Equal Opportunities
Ensure that all your managers are clear on relevant employment legislation and have had the opportunity to have an open discussion around what could be inappropriate
Ask each manager to cascade some relevant information down about bullying and harassment to their teams and generate a discussion with them about how it feels in the team
Run Unconscious Bias workshops so that people can discuss micro-inequities and what happens in the workplace that could make diverse groups feel uncomfortable
Ensure that all members of the organisation know who to speak to if they feel that they are being made to feel uncomfortable
Emerge are experts in creating climates of inclusivity, promoting diversity and delivering anti-harassment, Unconscious Bias, and Bystander workshops across many organisations.